ContiStreet - 90/90R18 57P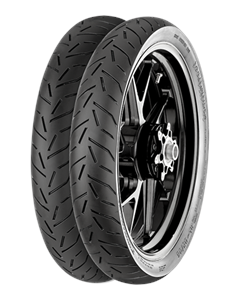 90/90-18 CO CONTISTREET 57P (R)
A Cross-Ply Revolution Using Big Bike Tech
All-weather tread pattern inspired by the test winning ContiRoadAttack 3 sport touring tyre.
New versatile yet durable compound, for great grip but not at the expense of durability.
Cutting edge performance and nimble handling for lightweight and urban motorcycles.
Rear tyres
There are no rear sizes available for this tyre.